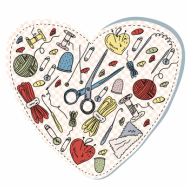 Cuddle Quilts
The Heart of Hamilton Quilters Guild
otherwise known as the
official charity wing of HQG


---
| | |
| --- | --- |
| What does this group do? | Cuddle Quilts is a group of men and women from the Hamilton area working together to produce quality quilts that will help improve the lives of others within their community. Some people come together once a month to stitch and sew as a group. Other people work quietly from their homes. Some help put kits together, some make tops some quilt them and still others bind them. You can be as involved with the group as suits your schedule. Many hours are put into this programs by individuals who want no recognition yet are grateful for the opportunity to give back to their community. |
Who benefits?


Each year the HQG

Cuddle Quilts

gives away more than 200 quilts in Hamilton and over 100 placemats. This year they are also giving away 20 specially made pillows for breast cancer survivors.

The group works closely with the following groups to ensure the needs of their clients are met in a caring and practical way.

Bob Kemp Hospice receives lap quilts. Clients entering the hospice receive a quilt to have during their stay. After their passing, the families are given the quilt in memory of their loved ones.
INASMUCH Women Shelter--quilts of various sizes are given to the shelter who in turn give a quilt to the women and sometimes their children as they leave the shelter to set up a new and safe life for themselves.
Hamilton Public Health Nurse PARTNERSHIP Program are given Baby Quilts made by the Hamilton Cuddle Quilters. The Partnership Program nurses team works with young, high risk, first time mothers and their families in Hamilton by offering an intensive home visitation program. This program follows the young mom through her pregnancy and the first two years of her child's life. A baby quilt is given on her child's first birthday.
Meals on Wheels Program receives over 100 placemats for distribution to clients for their meals at Christmas time.
Wellwood Cancer Centre is the recipient of Breast Pillows which they distribute to patients recovering from Mastectomies.
How can I help?

Join the group as they meet together on the third Tuesday of the month (You do not have to be a member of Hamilton Quilters Guild to participate in Cuddle Quilts, but we absolutely welcome new members!) Please come for all or part of the time, to sew or help assemble kits.
Contact the group leader, (using the contact sheet below) about donating a quilt you've already made or want to make--there are size requirements.
Attend a General Meeting of the Hamilton Quilters Guild and pick up a cuddle quilt kit to take home and finish.
Donate 100% cotton fabric and/or quality batting for use in the quilts.
If you are unable to help in any of these ways, cash donations are welcome to purchase batting, fabric and quilting tools.
Meetings and what to bring


Cuddle Quilts meet at Harmony Baptist Church, 1763 Upper James (south of Rymal Road, across from the Egg and I restaurant). Please enter church from rear parking lot.
We supply fabric, cutting mats, irons, rotary cutters, rulers and batting. Please bring your sewing machine, thread and basic sewing kit, if you want to sew that day. If you want to help make kits, iron, cut, you just need to bring yourself AND a lunch. Coffee and tea are provided.